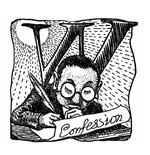 The News You May Have Missed
READ ALL ABOUT IT...
Britain's Family Planning Association (FPA) has produced 50,000 copies of a 12-page comic book devised to promote sex education for six-year-olds. The FPA insists that Let's Grow With Nisha and Joe, which includes illustrations of a naked girl and boy and invites youngsters to label their genitals, is a "gentle introduction." An FPA spokesman explained that "talking about body parts is often easier for children when they are younger, as they are less self-conscious about their bodies." A DVD version of the comic book is planned for release in 2009 (Daily Mail, Sept. 18).

The authors of 101 Places to Have Sex Before You Die suggest that couples take the risk of making love in Catholic confessionals. In the confessional entry, Marsha Nor­mandy and Joseph St. James write, "The only sex the Church doesn't frown upon is the married, heterosexual and birth control-free kind, so the odds are the pope is pretty displeased with you already. Instead of carrying all that mortal sin around with you for weeks at a time until you can make it to confession, why not combine both with a quick and tidy 2-for-1 session?" They advise avoiding Sundays, Christmas Eve, and Easter, and warn that the drawbacks include "splinters, ex-communication, and Peeping (Father) Tom." Publisher Simon & Schuster explained that the book was supposed to be facetious and not taken seriously. But not everyone finds this amusing. Bill Donohue, president of the Catholic League, attacked the morality of anyone who might take the book's advice: "The kind of people who would have sex in the confessional would also have sex in a graveyard. And I don't mean with each other," he told the New York Daily Post (Sept. 10).

Thirty-three-year-old Wendy Brown of Green Bay, Wisconsin, posed as her 15-year-old daughter to enroll at a local high school because she wanted to be a cheerleader. Brown attended cheerleading practices and a party at the cheerleading coach's house before the school year began. She was given a cheerleader locker and paid for her uniform with a check that later bounced. But she stopped attending school after the first day, prompting a truancy investigation that led to the discovery of the woman's true identity. Brown told police she wanted to get her high-school diploma and become a cheerleader because she had no childhood. She was charged with felony identity theft for using her daughter's ID to become a student at the school. Her daughter resides in Nevada (Associated Press, Sept. 12).

A supermarket in China included a new item in its "back to school sale" promotions this fall. The store in Shanghai tacked up an eye-catching sign in the middle of a display of Durex condoms that read, "Shocking price for back to school: 24.80 yuan" (the equivalent of $5), reports Xinmin News (Sept. 9). The supermarket was criticized for aiming condoms at students and also for distracting them from their studies. Others supported the supermarket, however, saying that the special price appropriately addresses students' limited finances.


Enjoyed reading this?
"Catholicism's Intellectual Prizefighter!"
- Karl Keating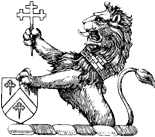 Strengthen the Catholic cause.
SUPPORT NOR TODAY
SUBSCRIBE
You May Also Enjoy
The News You May Have Missed
Bare Necessities... Crackpots... Rock-Solid Marriage... Brother E.T... Holy Scrape... Up, Up & Away... Animal & Plant Dignity... Will the Real Lesbians Please Stand Up
The News You May Have Missed
It's Alive!... Looking for a Unicorn... Norsemen of the Apocalypse... Protestant Humor... Gender Bullies... What's in a Name?... If Your Left Hand Causes You to Sin… Muslim Ladies' Night... Move Over, Judge Judy