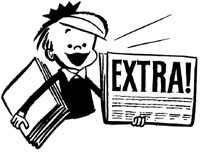 The News You May Have Missed
READ ALL ABOUT IT...
Since the election of Joseph Ratzinger to the papacy, a Puerto Rican fireman has claimed to be a reincarnation of Pope John Paul II. Edwin Gonzalez Concepcion, who bears no physical resemblance to the late Pontiff, also charges that Pope Benedict XVI is the "Antichrist" (despite the fact that he was formerly John Paul's right-hand man for a quarter century). According to the Associated Press (Dec. 13), Bishop Ulises Casiano Vargas was forced to excommunicate Concepcion and his followers, who refused to desist from their belief that the dead Polish Pope has manifested himself in the Caribbean.
A Third Place to Do Number 1 & Number 2
The Brazilian city of Nova Iguacu has passed a bill that requires night clubs, shopping malls, movie theaters, and large restaurants to provide a third type of bathroom specifically for transvestites. City Councilman Carlos Eduardo Moreira estimates that there are nearly 28,000 transvestites in this suburb of 800,000 on the outskirts of Rio de Janeiro. "It's a serious problem in society," Moreira explained to the Associated Press (Dec. 15). "The women don't feel comfortable having them in the ladies' room, and the men don't want them in their bathroom either."
Lowlands' Lower-Case Christ
According to a new grammar rule in the Netherlands and the Flemish half of Belgium, the name "Christ" will soon be written with a lower-case "c," as stipulated by an orthography reform adopted in October 2005. The change will be mandatory starting in August 2006. The penalty for transgressing the new grammar law has not yet been disclosed (Catholic News Agency, Oct. 19).
According to the Israeli newspaper Yedioth Ahronoth (Dec. 30), a 41-year-old female Jewish millionaire from London married a 35-year-old male dolphin named Cindy in Israel's southern resort town of Eilat. Fifteen years ago, Sharon Tendler, a British rock concert producer, took a liking to the dolphin. Since then she has traveled to Eilat three times a year to spend some precious moments with her underwater sweetheart. On the big day, the thrilled bride, wearing a white dress, walked down the dock and kneeled down before her groom, who was waiting in the water. "I'm the happiest girl on earth," she said, adding, "I made a dream come true, and I am not a pervert."

Enjoyed reading this?
"Catholicism's Intellectual Prizefighter!"
- Karl Keating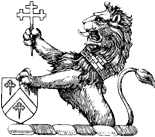 Strengthen the Catholic cause.
SUPPORT NOR TODAY
SUBSCRIBE
You May Also Enjoy
The News You May Have Missed
Smell as Catholic as the Pope... Cross-Dresser Blesser... Chickens for Christians... New Twist on polish Jokes... Could You Not Work Eight Hours?... Linguistic Ethnic Cleansing...Fr. Fisticuff & Sr. Sidekick... 'I Pledge Allegiance...' ... Disco-Dancing Nuns... Suburban Stonehenge
The News You May Have Missed
Mom Rock... Ph.D. in Air Guitar... Something to Do... Silicone Junkies... "Deferred Success"... Locker-Room Discrimination... Hey Wait...It's Art!
The News You May Have Missed
First National bank of Mary... Not Homosexual, Just Confused... Doing It for the Kids... Transsexual Jesus... Jesus Among the Druids... Make Way for Lesbian Bishops... Make Way for Married Gay Priests... All Dogs Go to Covenant Presbyterian...