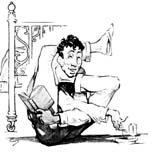 Ecce Papa Franciscus!
NEW OXFORD NOTEBOOK
We have been made to wait, and so we wait.
When Archbishop Carlo Maria Viganò released his "testimony" regarding the Pope's alleged complicity in the cover-up of Theodore Cardinal McCarrick's serial sexual predations, Francis told the gathered reporters aboard the papal plane, "When some time passes…I may speak." That was in late August. Over two months have passed; still Francis has not spoken. (For details on the whole affair, see last month's column, "At Last, a Reckoning?")
It comes as no surprise that Francis has kept everybody in suspense. After all, we've been waiting over two years for him to respond to the dubia, a set of five questions from four cardinals about ambiguous passages in his apostolic exhortation Amoris Laetitia (about which see our New Oxford Note "A 'Climate of Fear' in the Vatican?" Jan.-Feb. 2017). Francis even refused the cardinals a papal audience.
Some have argued that the Holy Father hasn't exactly been silent about Viganò's testimony, much as it was argued that he wasn't exactly silent about the dubia. When he railed against clerical "victims of careerism and opportunism" during his 2016 Christmas address to the curia, many interpreted that as an oblique reference to the dubia cardinals. Francis accused these unnamed opportunistic careerists of having "hardened hearts" and "misguided minds," of "hiding behind words of self-justification and often accusation." Hmm, to whom could he have been referring?
Not a month after saying he "may speak" about Viganò's testimony, Francis could be heard hinting — allegedly! — that Viganò has taken part in a demonic plot. Yes, you read that right. "In these times," Francis said in a homily during Mass at his Casa Santa Marta residence (Sept. 11), "it seems like the Great Accuser has been unchained and is attacking bishops…. He tries to uncover the sins, so they are visible in order to scandalize the people."
If this was indeed an oblique reference to Viganò, as some have suggested, then Francis has accused his accuser of being in league with the Great Accuser, Satan. Good heavens!
If not this, then what did Francis mean? If we take his words at face value, the most plausible interpretation is that episcopal sins should remain hidden so that Satan can't cause scandal. But — c'mon! — the Holy Father couldn't really have meant that, could he? Who knows! Good luck getting any sort of clarification from Francis himself.
And so we wonder, because we have been made to wonder.
Even stranger, if this line of interpretation is to be followed, was when Francis revisited this theme in a homily a week later. Speaking of Jesus on Good Friday, the Pope said, "When the people insulted him…he remained silent because he had compassion" (Sept. 18). Silence equals compassion — got that? "The pastor, in difficult times, at times when the devil is unleashed, where the pastor is accused, but accused by the Great Accuser through so many people, so many powerful, suffers, offers his life and prays."
If Viganò is Satan, that would make Francis ("the pastor") Jesus. In other words, by remaining compassionately silent in response to Viganò's accusations, Francis sees himself modeling the Savior. Ecce Franciscus!
It would be unfair to try to render a definitive interpretation. But, as with the Pope's remark about opportunistic careerists in the wake of the dubia, it's difficult not to be struck by the timing and context in the wake of Viganò's testimony. Indeed, you might say a pattern is emerging.
Of course, completing the puzzle wouldn't prove so confounding if Francis were to "man up" and explain himself. That's precisely what our friend Fr. Joseph Fessio, founder of Ignatius Press and Francis's fellow Jesuit, has called on the Pope to do. According to a CNN report (Sept. 23):
Fessio and other Catholics say Francis should answer Viganò's charges, instead of making vague remarks about "scandal" and "division" during morning homilies at Casa Santa Marta, his Roman residence. "He's attacking Viganò and everyone who is asking for answers," Fessio said. "I just find that deplorable. Be a man. Stand up and answer the questions."
Standing up and answering questions: Francis does that virtually every time he's aboard the papal plane on some far-flung junket. Yet he is loath to do the same for the flock he is supposed to be shepherding. Did the real Jesus ever fail to answer His disciples' queries?
Absent a coherent response from Francis, instead of reading his tea leaves, perhaps it would be better to examine his record when handling sex-abuse cases. Surprise! Viganò isn't the first to charge Pope Francis with being soft on pederasts.
Last year the Associated Press reported that Francis "has quietly reduced sanctions against a handful of pedophile priests, applying his vision of a merciful church even to its worst offenders in ways that survivors of abuse and the pope's own advisers question" (Feb. 25, 2017). "In some cases, the priests or their high-ranking friends appealed to Francis for clemency by citing the pope's own words about mercy in their petitions."
One notorious case involves Juan Barros, whom Francis appointed as bishop of Osorno, Chile, in 2015. Barros was the protégé of Fernando Karadima, a Chilean priest who was found guilty by a Vatican court in 2011 of abusing dozens of minors over a decades-long period. Karadima's victims claim that Barros witnessed the abuse and covered for Karadima, enabling his behavior. But Francis would have none of it. "There's not a single proof against him, it's all a calumny. Is that clear?" he told reporters aboard the papal plane (Jan. 21). See, Francis can be clear when he wants to be. "You, in all good will, tell me that there are victims, but I haven't seen any, because they haven't come forward…. I personally am convinced that he's innocent."
That prompted Marie Collins, a former member of the Pontifical Commission for the Protection of Minors, to reveal that she had delivered an eight-page document to Francis describing Karadima's abuse and detailing Barros's role in covering it up. No proof, no victims. Really, Your Holiness?
Under massive public pressure, Francis was forced to admit he had made "serious mistakes" in handling the situation. Barros resigned shortly thereafter.
That wasn't the only time Francis had to undo something he'd done. In 2012 Pope Benedict XVI defrocked Italian priest Mauro Inzoli, an accused pederast. In 2014 Francis reinstated Fr. Inzoli, who's been dubbed "Don Mercedes" for his love of luxury cars. In 2016 an Italian court convicted Inzoli of eight counts of sexual abuse of minors. Over half a year later, Francis re-defrocked Inzoli. Nota bene: This is precisely the pattern of behavior Viganò has accused Francis of following with McCarrick.
And who can forget the bacchanalian soirees in Vatican-owned luxury apartments? In early 2017 Vatican police arrested Msgr. Luigi Capozzi after they caught him hosting a raucous, cocaine-fueled homosexual orgy in the former Palace of the Holy Office — a mere 500 yards from Francis's Casa Santa Marta residence. (The neighbors had complained repeatedly about the steady stream of young male visitors and noisy goings-on in Capozzi's flat.) Italian news service Il Fatto Quotidiano reported that Francis knew all about Capozzi's orgy and arrest, but he has remained silent about it. In follow-up accounts, a senior member of the curia told Vatican correspondent Edward Pentin that homosexual activity among the clergy in Rome has "never been worse" than it is now (National Catholic Register, July 8, 2017).
Examples of Francis's rehabilitating and running interference for pervert priests date back to his time as archbishop of Buenos Aires. In 2009 Argentine priest Julio César Grassi, founder of a shelter for street children, was convicted of aggravated sexual assault and corruption of minors. According to the Associated Press (Sept. 18), in 2006 then-Archbishop Jorge Bergoglio called the accusations against Grassi "informative viciousness" and "a condemnation by the media." Grassi testified in court that Bergoglio "never let go of my hand" throughout the legal process.
After Grassi's conviction, Bergoglio commissioned a study of the case. The 2,000-page report concluded that Grassi is innocent, his victims — residents of Grassi's Happy Children homes — were lying, and the case never should have gone to trial. Argentina's Supreme Court disagreed with the analysis and, in March 2017, upheld Grassi's 2009 conviction. One of Grassi's victims told the Associated Press that the study "denigrated" him personally. Upon Bergoglio's ascension to the papacy, he asked for an audience, writing to Francis, "I earnestly beg you for compassion and help in recovering my faith." He never received a reply.
Does all of this add up to a behavioral precedent? Perhaps. Perhaps not. All we can say definitively is that Francis's record is spotty at best. And it confirms concerns regarding his role in rehabilitating Cardinal McCarrick and covering up his serial sexual abuse — concerns that become more acute when considering the Pope's dismissive response to a delegation of U.S. bishops who came to him pleading for help.
This September, Daniel Cardinal DiNardo of Galveston-Houston, president of the U.S. Conference of Catholic Bishops, along with Seán Cardinal O'Malley of Boston, president of the Pontifical Commission for the Protection of Minors; Archbishop José Gomez of Los Angeles, vice president of the U.S. bishops' conference; and Msgr. Brian Bransfield, conference general secretary, met with the Pope to discuss what DiNardo called the "moral catastrophe" racking the Church. The American delegation, to its credit, recognized that something needs to be done — ASAP! — to address the resurgent sex-abuse crisis. DiNardo's primary aim was to secure Francis's approval of an apostolic visitation, or Vatican-led investigation, of the McCarrick affair — to get to the bottom of who knew what and when. Francis, however, nixed DiNardo's request.
Why? Is it because Francis knows that a thorough investigation would lead to the doorstep of the Casa Santa Marta? We can only speculate, because — let's say it together now — we have been made to speculate.
If not a visitation, then what? According to Vatican correspondent John L. Allen Jr., "Several sources have confirmed that the pontiff made a 'counter-offer,' suggesting instead that the bishops suspend their upcoming November meeting in favor of a week-long Ignatian-style retreat" (CruxNow.com, Sept. 26). So DiNardo warns the Pope that "the Body of Christ is lacerated by the evil of sexual abuse," and Francis tells him to take a week off with his buddies for stress relief and spiritual exercises. Unbelievable!
Before Cardinal DiNardo is cast in the role of spurned protagonist in this drama, let us note that he too has been implicated in a cover-up. Two days prior to DiNardo's papal audience, Fr. Manuel LaRosa-Lopez, DiNardo's episcopal vicar for Hispanics, was arrested on four counts of indecency with a minor. He had allegedly abused two teenagers in the late 1990s and early 2000s, and DiNardo allegedly knew of the abuse but failed to remove the ephebophile priest from parish ministry, where he was often in the presence of youth.
So our man in Rome who urged the Pope to do something about the sex-abuse crisis is himself compromised.
Troubling too is the fact that Viganò also stands accused of a cover-up. It has been alleged that in 2014, as apostolic nuncio to the U.S., Viganò quashed an investigation into a homosexual affair between Archbishop John Nienstedt of St. Paul-Minneapolis and a Swiss guard, going so far as to demand that the evidence be destroyed. Viganò has denied the accusation, calling it "false." Hey, at least he responded! Nienstedt, for his part, resigned in 2015 after it was announced that Minnesota prosecutors were filing criminal charges against his archdiocese for its "failure to protect children." The archdiocese has agreed to pay a $210 million settlement to 450 victims — the second-largest payout in U.S. Church history.
Can anybody be trusted?
This isn't to give the impression that Pope Francis is doing nothing about the ongoing and escalating sex-abuse crisis. This September he announced that he has convened a summit with the presidents of the world's bishops' conferences to discuss the "protection of minors." Though that's an important topic, sadly this appears to be another attempt at misdirection, for it ignores the pink elephant in the sanctuary. The real problem is the episcopal culture of sexual debauchery, moral corruption, and cover-ups — a culture that appears to extend all the way to the highest offices of the Church. Do we really need another policy, the end result of which is to require fingerprinting of lay ministerial volunteers?
At any rate, the summit is scheduled to take place at the Vatican in February 2019. Yes, five months hence. What are we to conclude but that the Pope doesn't see this as a matter of any real urgency?
And so we wait, because — oh, never mind!
In the interim, it's interesting to note the things Francis is talking about. Recently, he roused himself to remind us of what he considers a really urgent matter: plastics littering the oceans. No joke. The Pope called this phenomenon an "emergency" that requires an "active commitment" (Sept. 1). Efforts to reduce plastic waste, he insisted, must be made "as if everything depended on us."
Plastics littering the ocean? A crisis that requires immediate action! Priests and prelates engaging in sexual debauchery? Christ-like silence.
Behold Pope Francis!
Viganò Doubles Down
On September 27 Archbishop Viganò released a second letter. Here are excerpts:
Neither the pope, nor any of the cardinals in Rome have denied the facts I asserted in my testimony. Qui tacet consentit ["He who is silent consents"] surely applies here, for if they deny my testimony, they have only to say so, and provide documentation to support that denial. How can one avoid concluding that the reason they do not provide the documentation is that they know it confirms my testimony?
….
The pope's reply to my testimony was: "I will not say a word!" But then, contradicting himself, he has compared his silence to that of Jesus in Nazareth before Pilate, and compared me to the great accuser, Satan, who sows scandal and division in the Church — though without ever uttering my name. If he had said: "Viganò lied," he would have challenged my credibility while trying to affirm his own. In so doing he would have intensified the demand of the people of God and the world for the documentation needed to determine who has told the truth. Instead, he put in place a subtle slander against me — slander being an offense he has often compared to the gravity of murder. Indeed, he did it repeatedly, in the context of the celebration of the most Holy Sacrament, the Eucharist, where he runs no risk of being challenged by journalists. When he did speak to journalists, he asked them to exercise their professional maturity and draw their own conclusions. But how can journalists discover and know the truth if those directly involved with a matter refuse to answer any questions or to release any documents?
The pope's unwillingness to respond to my charges and his deafness to the appeals by the faithful for accountability are hardly consistent with his calls for transparency and bridge building.
©2018 New Oxford Review. All Rights Reserved.
"Catholicism's Intellectual Prizefighter!"
- Karl Keating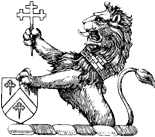 Stengthen the Catholic cause.
SUPPORT NOR TODAY
DONATE