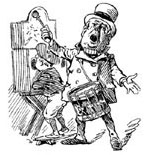 The Truth About the Homosexual Rights Movement
THE BOOKS WERE A FRONT FOR THE PORN
Ed. Note: Throughout 2017, in commemoration of our 40th year of publication, we are featuring one article per issue from the NOR's past. This article originally appeared in our February 2006 issue (volume LXXIII, number 2) and is presented here unabridged. Copyright © 2006.
Orig. Ed. Note (Feb. 2006): This article contains an honest description of the homosexual "lifestyle." If you don't want to read such accounts, DO NOT READ THIS ARTICLE. If you do read it, don't send us a letter of complaint. You've been forewarned.
There was a "gay" bookstore called Lobo's in Austin, Texas, when I was living there as a grad student. The layout was interesting. Looking inside from the street, all you saw were books. It looked like any other bookstore. There was a section devoted to classic "gay" fiction by writers such as Oscar Wilde, Gertrude Stein, and W.H. Auden. There were biographies of prominent "gay" icons, some of whom, like Walt Whitman, would probably have accepted the homosexual label, but many of whom, like Whitman's idol, President Lincoln, had been commandeered for the cause on the basis of evidence no stronger than a bad marriage or an intense same-sex friendship. There were impassioned modern "gay" memoirs, and historical accounts of the origins and development of the "gay rights" movement. It all looked so innocuous and disarmingly bourgeois. But if you went inside to browse, before long you noticed another section, behind the books, a section not visible from the street. The pornography section. Hundreds and hundreds of pornographic videos, all involving men, but otherwise catering to every conceivable sexual taste or fantasy. And you would notice something else too. There were no customers in the front. All the customers were in the back, rooting through the videos. As far as I know, I am the only person who ever actually purchased a book at Lobo's. The books were, in every sense of the word, a front for the porn.
So why waste thousands of dollars on books that no one was going to buy? It was clear from the large "on sale" section that only a pitifully small number of books were ever purchased at their original price. The owners of Lobo's were apparently wasting a lot of money on gay novels and works of gay history, when all the real money was in pornography. But the money spent on books wasn't wasted. It was used to purchase a commodity that is more precious than gold to the gay-rights establishment: respectability. Respectability and the appearance of normalcy. Without that investment, we would not now be engaged in a serious debate about the legalization of same-sex "marriage." By the time I lived in Austin, I had been thinking of myself as a gay man for almost 20 years. Based on the experience acquired during those years, I recognized in Lobo's a metaphor for the strategy used to sell gay rights to the American people, and for the sordid reality that strategy concealed.
This is how I "deconstruct" Lobo's. There are two kinds of people who are going to be looking in through the window: those who are tempted to engage in homosexual acts, and those who aren't. To those who aren't, the shelves of books transmit the message that gay people are no different from anyone else, that homosexuality is not wrong, just different. Since most of them will never know more about homosexuality than what they learned looking in the window, that impression is of the greatest political and cultural importance, because on that basis they will react without alarm, or even with active support, to the progress of gay rights. There are millions of well-meaning Americans who support gay rights because they believe that what they see looking in at Lobo's is what is really there. It does not occur to them that they are seeing a carefully stage-managed effort to manipulate them, to distract them from a truth they would never condone.
For those who are tempted to engage in homosexual acts, the view from the street is also consoling. It makes life as a homosexual look safe and unthreatening. Normal, in other words. Sooner or later, many of these people will stop looking in through the window and go inside. Unlike the first sort of window-shopper, they won't be distracted by the books for long. They will soon discover the existence of the porn section. And no matter how distasteful they might find the idea at first (if indeed they do find it distastefub| they will also notice that the porn section is where all the customers are. And they will feel sort of silly standing alone among the books. Eventually, they will find their way back to the porn, with the rest of the customers. And like them, they will start rooting through the videos. And, gentle reader, that is where most of them will spend the rest of their lives, until God or AIDS, drugs or alcohol, suicide or a lonely old age intervenes.

Enjoyed reading this?
"Catholicism's Intellectual Prizefighter!"
- Karl Keating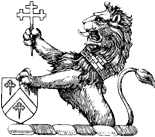 Strengthen the Catholic cause.
SUPPORT NOR TODAY
SUBSCRIBE
You May Also Enjoy
The Fallacy of Faulty Analogy
Activists and journalists have been working overtime to make stick the comparison between racial segregation and so-called anti-LGBT attitudes.