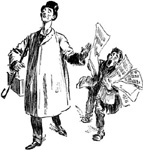 The News You May Have Missed
READ ALL ABOUT IT...
Suburban housewives across the country are picking up guitars and drumsticks as part of a new musical movement dubbed "Mom rock." Bands such as Housewives on Prozac in New York, Placenta in California, and Frump in Texas began rehearsing in basements and garages, thrashing out punk-style songs about breastfeeding, washing dirty clothes, and burning the dinner. "Eat Your Damn Spaghetti," "Dishwashing Blues," and "Pee Alone" are some of the tunes that have given these mom rockers recognition.
For the next three years, Amanda Griffiths, 32, will be pursuing the degree of Doctor of Philosophy. Her academic research will use the work of French post-structuralist philosophers such as Michel Foucault to explain in 60,000 words why men and women play air guitar differently. Ms. Griffiths explained to London's Telegraph (August 2): "The time seems right for a cultural study of the phenomenon, because there is a very hardcore air guitar scene that has been bubbling away for years. But, as a feminist, I am interested in why there are so few women at events." Her doctoral work is being carried out at England's University of Salford under Prof. Sheila Whiteley, who has also overseen Ph.D. studies into "post-anarcho" punk rock and the art of "moshing," the vigorous head-shaking dance popular among teenage concert crowds.
An Austrian couple with 12 children has parted ways after husband Hannes Look announced he was leaving his family in Graz for another man. Hannes explained to his wife, Alina, that he is homosexual. "He told me he only had sex with me so I could get pregnant and it would give me something to do," she explains in a newly released book that details her ordeal. Mrs. Look hopes proceeds from book sales will help her support her family.

Enjoyed reading this?
"Catholicism's Intellectual Prizefighter!"
- Karl Keating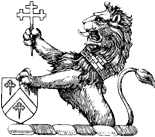 Strengthen the Catholic cause.
GET A 7 DAY FREE TRIAL
FREE TRIAL
You May Also Enjoy
The News You May Have Missed
What Would Jesus Drive?... Reprieve for the Atheist Minister... Sinead O'Muslim... Nothing but a Number?... Not Your Tranny Granny... You May Now Kiss the Hologram... Scouts' Dishonor... The Young & the Voteless... A Child Shall Lead Them... King's Crossing... Get Your Grub On... The Essence of Cockroach... Eggsploitation... How the Mighty Have Fallen... more
The News You May Have Missed
Beauty Is in the Eye of the Blogger... The Center of Attention... So That "Our Children May Live"... Combating a New Form of 'Child Abuse'... Collective Apostasy... Dispelling Myths... Cherie, Cherie, Quite Contrary... Morning-After Text... Self-Induced Abortion... Post-Abortion Adoption...
The News You May Have Missed
Marrying Me... Jihad Jokester... The Perils of Praying on a Plane... Six-Year-Old Activists... Mourning in America... Trump Supporters Need Not Apply... Chalk Intimidation... The Fall of Western Civ... A Blind Racist on the Bench?... and more