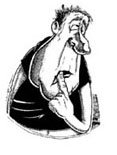 What Part of "Is" Don't They Understand?
"THIS IS MY BODY"
Narrator: In town for the Louisiana Debate Finals, Tony Padua and Msgr. Gottlieb sit down for supper at Burger Bonanza. Tony is a Catholic teenager who takes his faith seriously. On Wednesdays he attends a teen Bible study. He awakes at 5 A.M. on Fridays for Eucharistic Adoration. Never does a Saturday pass without Tony visiting the confessional. The old folks at the nursing home look forward to his Sunday visits. Tony wrestles for his high school and is captain of the debate team. Msgr. Gottlieb is a German-born Jesuit with a distinct distaste for dissident theologians and American beer. Gottlieb is coach of Tony's wrestling team and has accompanied him to the debate finals.
Msgr. Gottlieb: (blessing their hamburgers with the sign of the Cross) Bless us, O Lord, and these thy greasy gifts which we are about to receive…
Narrator: Meet Reverend Ian Protestus, the non-denominational minister with the fastest-growing congregation south of the Mason-Dixon line. R.I.P., as he is commonly called, left the Catholic Church 10 years ago, following his third divorce. R.I.P. holds a doctorate from Rapture University. Together with the (fourth) girl of his dreams — whom he met at a Jimmy Swaggert altar call — he lives with his 2.1 children in a modest 10,000-square-foot home. He's the debate coach at the school affiliated with his independent megachurch, First Pastoral Evangelical Spirit of Fire Millennial Church of the Lord.
R.I.P.: (speaking to the worker molding his burger) Are you saved? Do you know Jesus? You can be born again. Amen, I say to you — John 3:16!
Narrator: Meet Billy Sunday Jr., class president of First Pastoral Evangelical Spirit of Fire Millennial Church of the Lord Secondary College Preparatory School of Excellence, and well versed in the Bible.

Enjoyed reading this?
"Catholicism's Intellectual Prizefighter!"
- Karl Keating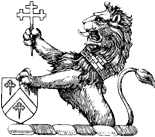 Strengthen the Catholic cause.
SUPPORT NOR TODAY
SUBSCRIBE
You May Also Enjoy
An Amazing Turn
She wanted to fly in and meet. At the airport, he was disappointed by how she looked in person. But by that stage in his life, he didn't think he could do better.
The Bileworm Memorandum
The devil shares his business plan to destroy "orthodox fools" through schism, revolution, division, and other tactics.