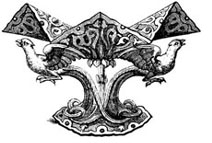 A Tree Grows in St. Louis
ONE HOME IS A GATEWAY TO CATHOLICISM
This tree, like the one Betty Smith describes in her 1943 novel, A Tree Grows in Brooklyn, is not literal but symbolic. The Psalmist writes of the righteous man who is "like a tree planted by streams of water, that yields its fruit in its season, and its leaf does not wither. In all that he does, he prospers" (Ps. 1:3). Indeed, Smith's "tree" is an allusion to Christ's comparison of the Kingdom of God with a mustard tree, to which "the birds of the air come and make nests in its branches" (Mt. 13:32). The tree in St. Louis, like that of the Psalmist, yields its fruit in all seasons, and like that of Christ, has nurtured those who have come to rest in its branches. It is the home and lives of Lawrence Feingold and his wife, Marsha, who have blessed a generation of Catholics, especially converts to Catholicism, through their theological and communal ministry.
Dr. Feingold, who teaches theology at Kenrick-Glennon Seminary in St. Louis, is a prodigious scholar, yet he is relatively obscure in comparison to other prominent Catholics who possess far less impressive résumés. I first got wind of him when I was a Calvinist seminarian and began seriously studying Catholicism. A friend who had recently crossed the Tiber recommended him to me. Months later, when I told a Ph.D. candidate in Catholic theology that I was listening to Feingold's lectures, he responded, "You're getting just as good an education as I am!" Since then, I've been amazed to learn how many people have been catechized by this St. Louis-based theologian. Several Calvinist-to-Catholic converts are among his students, including Bryan Cross, whose writing has graced the pages of the NOR; Barrett Turner, a theology professor at Mount St. Mary's University in Emmitsburg, Maryland; and Jason Kettinger, a writer for the website Called to Communion, an ecumenical forum that seeks to foster dialogue with Reformed Protestants. Feingold's ministry to Calvinists seems providential, as St. Louis is home to the seminary of one of the largest Calvinist denominations in the U.S., the Presbyterian Church in America, of which I was once a member.
Feingold's academic talents are diverse. Among his numerous published works are textbooks on the natural desire to see God, fundamental theology, and the Eucharist. He has also written a three-part series on the mystery of Israel and the Church that examines connections and typology between the two. Scott Hahn praised Feingold's Faith Comes from What Is Heard: An Introduction to Fundamental Theology (2016) this way: "Every now and then a book comes along that changes everything. Dr. Feingold has produced such a book…. This is the book that will make Fundamental Theology accessible to motivated Catholic laity outside the academy."
Chapter three alone makes this book worth its weight. It examines the motives of credibility for the Catholic Church, an essential part of our faith that few Catholics know or can effectively articulate, even though it is explained quite early in the Catechism of the Catholic Church (no. 156). Feingold does a fine job in 35 pages of explaining these motives, or "supernatural signs that manifest the miraculous action of God," which are incredibly important apologetic tools in any conversation explaining and defending our faith.
The Feingolds' conversion story is perhaps even more interesting and remarkable than the professor's neo-Scholastic scholarship. Both Larry and Marsha were raised in Jewish families. Larry's was largely secular; his father was a non-observing Jew, and his mother a mostly non-observing Protestant. Marsha's family, however, was from the conservative school of Judaism. The two met while attending Washington University in St. Louis. It was there that a God-fearing art professor planted the seeds of faith in Larry. When comparing a Rembrandt portrait with a work of abstract expressionism, the professor, sagely, asked his students which they would prefer to contemplate on their deathbeds. So much for beauty being solely in the eye of the beholder! This instruction helped prepare Larry's heart for God because it led him to consider abstract forms of art as incapable of manifesting the unique dignity of the human person.
After marriage and further schooling, the Feingolds moved to Italy and lived in the small Tuscan town of Pietrasanta, where Larry worked as a marble sculptor. Yet the more he studied art and worked as an artist, the more he perceived an incongruity between his appreciation for classical, often Christian-themed art and his professed atheism. Then, in 1988, Marsha became seriously depressed during pregnancy. Larry's realization of Marsha's need for love and his own inadequacy to offer that love (despite desiring to give it) impressed upon him the inescapable reality that man inherently craves a love that cannot be provided by the things of this world. Either all of life is entirely absurd (a position he had already rejected) or there is a transcendent love to satisfy the human heart. Within a year, Larry and Marsha converted to Christianity, becoming Anglicans. In 1989 they entered the Catholic Church.
For almost the entirety of the 1990s, Larry pursued theological studies, both in Italy and in Jerusalem, eventually earning a doctorate in theology from the Pontifical University of the Holy Cross in Rome. He taught theology in Argentina for several years before returning to the U.S., where he has served as a professor in St. Louis ever since. Over the course of all those years, he's likely taught more than a thousand people. Marsha has served as the careful and patient editor of his extensive academic output. They have also hosted weekly dinners and theological conversations in their home for years.
I had the opportunity last summer to go to the Feingolds' home. One of my close friends was getting married in St. Louis. Coincidentally, my friend's fiancé had been catechized by Larry in a St. Louis-based RCIA program. During the wedding reception, I recognized Larry from photos I had seen on the Internet, and I introduced myself. Larry invited me and my wife to spend the evening with him and Marsha. Their small but welcoming home is filled with Larry's sculptures and drawings, many of which are of Marsha. We enjoyed their hospitality, got to hear their conversion story firsthand, and learned about their spiritually and intellectually productive life in Missouri. In those hours, I could understand, through the kind charity of Larry and Marsha, why they have had such an impact on the lives of Catholics (especially converts to Catholicism) across the country.
I also perceived one reason why Larry is perhaps not as famous as other, less-talented theologians. He is remarkably humble, moderate, and evenhanded. In the introduction to The Natural Desire to See God According to St. Thomas and His Interpreters (2001), he writes:
I am convinced that theological investigation is not served by polemics which label authors in blanket fashion as liberal or conservative, radical or reactionary. Theology is concerned with the truth of particular arguments and conclusions defended through theological reasoning. It is served by not being afraid to examine positions on their own merits, independently of whether their authors deservedly enjoy wide acclaim, or have currently fallen from favor.
Yet polemics and labeling are precisely what many Catholic writers and publications rely on to generate interest and maintain "relevance." As a friend working in Catholic media recently told me, "I know which bishops and cardinals to love, and which to hate, but has this gotten me any closer to holiness and sainthood?" This, of course, isn't to suggest that Catholics should be uninformed about the political machinations of churchmen; rather, it is to acknowledge that obsession with their machinations can easily overshadow, if not define, our religious experience.
Feingold largely avoids this. In his most recent book, The Eucharist: Mystery of Presence, Sacrifice, and Communion (2018), he doesn't shy away from discussing controversial paragraph 305 of Amoris Laetitia. His conclusions are consistent with the teachings of Pope St. John Paul II and Pope Emeritus Benedict XVI, and they are also fair to Pope Francis. Feingold appears to carefully and consistently abide by the principle of charity in intellectual discourse, which demands that we presume the best of others.
Of all his books, Feingold is proudest of The Eucharist. This is in part due to the structure of the text, which diverges from previous works that divide the sacramental and sacrificial aspects of the Eucharist and instead favors the three finalities of the Blessed Sacrament: presence, sacrifice, and communion. This approach highlights the connection between the incarnational indwelling of God and various Old Testament images of His presence, such as the shekinah cloud and the tree of life in the garden. Feingold's book also explains how love is the backdrop and explanation for the spousal relationship between God and His people, exemplified in His sacrifice and self-gift. This approach emphasizes the fittingness of God's methods: There is a certain beauty and cohesion to the economy of salvation. For example, as many theologians have argued, God could have saved mankind in any number of ways, but Christ's death on the Cross was a most fitting way to accomplish this. In a sense, this is another motive of credibility, because fittingness helps us understand why God does something a certain way. Feingold's approach goes beyond St. Thomas's conception of the motives of credibility because the Angelic Doctor considered them useful primarily for those who already believe in Christ, whereas Feingold sees them also as apologetic tools.
The Psalmist's comparison of the righteous man to a strong, fertile tree, and our Lord's comparison of the Kingdom of God to an ever-growing tree, are appropriate examples to illustrate the Feingolds' mission in St. Louis. Much of it, perhaps spurred by Larry's Jewish heritage, has been the uniting of the Old and New Testaments. In a manner likely unparalleled among American theologians, he is capable of perceiving and articulating the deep, multi-layered typology at work across the breadth of Holy Scripture. It is fitting, then, that his own mission — and that of Marsha, who, though less visible, is integral to his work — exemplifies what the Catholic intellectual life should look like. Only God knows the extent of the impact the Feingolds, in their humble, persevering love for Christ, have had on American Catholicism, through lectures, dinner conversations, and, of course, books. This remarkable family and their little spiritual oasis in the Gateway to the West have become, as divine fate would have it, a gateway to Catholicism.
©2019 New Oxford Review. All Rights Reserved.
"Catholicism's Intellectual Prizefighter!"
- Karl Keating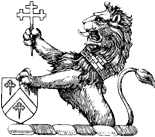 Strengthen the Catholic cause.
SUPPORT NOR TODAY
DONATE