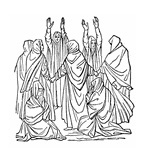 A Panoramic View of the Real Pulcheria
PROTECTRESS OF THE FAITH & THE LIGHT OF ORTHODOXY
On September 11, 453, Augusta Pulcheria, empress of the Eastern Roman Empire and a dedicated virgin, died. The sorrowing faithful who processed to Constantinople's St. Sophia Basilica for Pulcheria's funeral rites repeatedly acclaimed her a saint, an enthusiasm that continued during her funeral Mass. The public reaction foreshadowed another funeral held for a future saint 1,552 years later — that of Pope John Paul II, of whom crowds shouted Santo Subito! ("A saint immediately!"). But unlike St. John Paul II, St. Pulcheria's role in world history is virtually unknown. One academic described the corpus of scholarly literature on Pulcheria as "surprisingly small." Another observed that Pulcheria has received only "scant attention" from early scholars and "limited interest" from modern scholars. Complicating this historical record are biographies presenting a skewed view of the empress saint, minimizing her historical impact and ascribing to her base political motives. The authentic Pulcheria can, however, be discovered amid these uneven historical interpretations through the lens of her Catholic identity. Like Pope St. John Paul II, Pulcheria's Catholic faith made her a key defender of Catholic orthodoxy, and her actions providentially came during a critical battle over basic Christological beliefs. Accordingly, St. Pulcheria is a foundational figure not only in Catholic history but in world history.
The historical record, even on its surface, is remarkable. Born in 399, Pulcheria was the granddaughter of the late Theodosius the Great. She was the oldest surviving daughter of Arcadius, the emperor of the Eastern Roman Empire, and Eudoxia, the empress. Pulcheria was baptized in St. Sophia by her mother's ecclesiastic antagonist, St. John Chry­sostom, the patriarch of Constantinople. Pulcheria had two younger sisters, Arcadia and Marina, and a younger brother who eventually became Theodosius II. Their mother died in 404 and their father in 408, when Theodosius II was just seven years old. A regency headed by two imperial officials guided the administration of the royal household and the Eastern Empire until 414, when Pulcheria, now fifteen years old, was given the title Augusta and named regent for thirteen-year-old Theodosius II. Pulcheria, an excellent student fluent in both Latin and Greek, became responsible for her brother's education.
That year, Pulcheria and her sisters publicly professed a vow of virginity. While allowing them to live chaste lives founded on supernatural love, their promise safeguarded Theodosius II's throne from potential rivals who might have sought to marry the royal sisters. In memory of her vow, Pulcheria donated to the Church an altar inlaid with gold and other precious stones with her vows inscribed along the edge, as well as an altar cloth woven from her robe of consecration.
During her regency, Pulcheria instilled piety in the young emperor, ensuring that he attended Mass and prayed regularly. Fasts were strictly observed, and by night the siblings gathered for the chanting of hymns. In addition to languages, scientific studies, and philosophy, Pulcheria also taught Theodosius II the rudiments of ruling an empire, including how to listen with patience and grace to all who sought aid or counsel. The definitive end of Pulcheria's regency came after 416 when Theodosius II reached the age of majority. Her influence continued, however, and she found a wife for Theodosius, a beautiful Athenian pagan named Eudocia. Pulcheria tutored Eudocia in the faith, becoming her godmother. Eudocia was proclaimed Augusta in 423, following the birth of a royal daughter, and rapport between the two Augustas endured. However, as Eudocia grew comfortable with her privileged position, her attitude toward Pulcheria changed.
In 437 Eudocia allied herself with a powerful court chamberlain, the ambitious eunuch Chysaphius, who in turn exploited Eudocia's newly discovered taste for power by removing Pulcheria from the emperor's side. Pulcheria, aware of Eudocia's plans, voluntarily exiled herself to her Hebdomon palace located outside the city walls. Her time away from palace intrigue was spent funding her extensive philanthropies, which included the support of monasteries.
Eudocia's association with Chysaphius ended badly. In 444 Chysaphius convinced Theodosius II that his wife was guilty of adultery. The emperor exiled Eudocia to the Holy Land, thereby ending their twenty-two-year marriage (she died in Jerusalem in 460).
Although the cunning Chysaphius was eventually banished from the palace, Pulcheria's return to Theodosius II's side did not restore her previous influence. Theodosius II died on July 28, 450, from a riding accident. Upon his death, Pulcheria was unanimously proclaimed empress of the East. A month later, she married the patrician Marcian, but in spirit only, given her vow of virginity. Marcian, described by chroniclers as a just man devoted to the Church, cooperated with her in this matter. With Marcian's assistance, Pulcheria convened the Fourth Ecumenical Council of Chalcedon in 451, disposing of Eutyches and his Monophysite partisans and restoring orthodoxy in the East. She and Marcian worked as a team until her death in 453.

Enjoyed reading this?
"Catholicism's Intellectual Prizefighter!"
- Karl Keating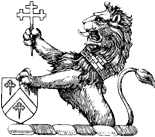 Strengthen the Catholic cause.
SUPPORT NOR TODAY
SUBSCRIBE