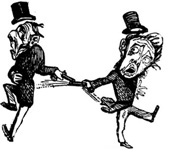 That Shot Was Heard in Rome
EDITORIAL
In last October's editorial we presented our reasons for thinking that a great showdown between Catholic orthodoxy and dissent is looming, and we supported Bishop Fabian Bruskewitz's excommunication of certain dissenters in his diocese (Lincoln, Nebraska). We characterized the bishop's action as "The Shot Heard 'Round the World," which was the title of the editorial, and we said it was the first shot fired in the big battle to come. Although we stated why we thought the shot was heard around the world, we nevertheless received some comments saying in effect, "Oh, come now, it was only a skirmish out in the boonies."
To the contrary! Just for starters: The shot was heard in big-deal Chicago. Joseph Cardinal Bernardin returned fire with his brand-new, shiny Common Ground cannon — and the roar of his volley was amplified, predictably, by the secular media. Indeed, "common ground" suddenly became the latest buzzword, with politicians from President Clinton on down peppering their speeches with it. Chicago's prince of the Church was in the disarming habit of referring to himself as "your brother Joseph," but he was actually the most powerful member of the U.S. hierarchy, as well as a brilliant ecclesiastical tactician. With his Common Ground offensive, he and his mighty ecclesiastical network set out to silence the thunder out in Nebraska.
Are we being overly dramatic? No. In response to questions at a press conference, Bernardin actually admitted that he had hurried to launch his Common Ground missile because, in addition to the poor state of his health, he was annoyed by Bruskewitz's action. Yes, the shot was heard in Chicago. And Bernardin's response was to let it be known that dissenters are not to be excommunicated, they are to be embraced in dialogue (see our Jan.-Feb. 1997 editoriab~
But much to his and almost everyone's surprise, as Chicago's master tactician was scrambling to take care of business in Nebraska, he was blindsided by four other cardinals — Bernard Law, Anthony Bevilacqua, Adam Maida, and James Hickey — who weighed into the fray with potent blasts at the Common Ground initiative. And then Bishop Kenneth Untener slammed the four cardinals from the pages of America, the Jesuit weekly. It was impossible to deny that open civil war had broken out in the U.S. hierarchy.

Enjoyed reading this?
"Catholicism's Intellectual Prizefighter!"
- Karl Keating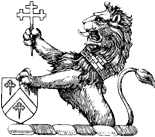 Strengthen the Catholic cause.
SUPPORT NOR TODAY
SUBSCRIBE