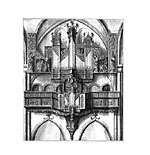 A Church Rises from the Ruins
BROTHERS OF THE SWORD, THE SINGING REVOLUTION & JOHN PAUL'S LAST BISHOP
Tallinn, the capital of Estonia, looks like a movie set created by Walt Disney. Along its medieval walls are fortress towers and arched gates. Within is a maze of narrow lanes and ancient buildings. Its town hall, the oldest still standing in Europe, dates to 1404. A dozen church spires pierce the skyline. Here and there restored crucifixes and images of haloed saints peer down from old walls. On the steps of Tallinn's lone Catholic parish, I asked a young Estonian man why he came to Mass. "I'm a convert," he said. "I started reading philosophy. It all pointed to God. Why did I become a Catholic? Because it is the truth." He concluded wistfully, "But there are not many Catholics around here, at least for the past five hundred years."
Timing is everything. Nine hundred years earlier, my acquaintance would have witnessed the Viking lifestyle and the god Tharapita prevailing in this Baltic area. Those Estonians terrorized Christianized Swedes and Danes with coastal raiding parties. The evangelization of Estonia began in earnest in 1193 when Pope Celestine III called for a crusade against Europe's last pagan holdouts. Celestine's first episcopal appointee was speared by hostile Balts. The next, Bishop Albert von Buxthoeven, firmly established a bishopric in Riga (Latvia) by 1201, helped by an army of fifteen hundred Germans.
The following year, Bishop Albert founded a new crusading order known as the Livonian Brothers of the Sword. In 1208 the order's knights turned against the tribes of modern-day Estonia, launching a war that lasted off and on for two decades. Pope Innocent III assisted by dedicating the land to the Blessed Virgin Mary in 1215. Conquered tribes accepted Catholicism under the terms of surrender. Naturally, some took to the faith better than others: The inhabitants of the island of Saaremaa, for example, twice renounced Christ and massacred the island's Catholic priests and resident Germans. But evidence suggests that Catholicism became normative from about 1227 on. Medieval Estonia became home to at least a hundred churches and a dozen monasteries and convents.
Alas, Martin Luther's revolution smashed all this. Estonia fell under Swedish rule in 1561. Tolerant Sweden was far in the future — Catholicism was a forbidden faith in the sixteenth century. Sweden forcibly expelled Estonia's last adherents to the old faith in 1626. For almost a hundred and fifty years, no record exists of any Catholic presence. But in 1770 Estonia was swallowed up by the Russian Empire. The czar granted religious freedom to ethnic minorities, and German and Polish migrants re-established Estonian Catholicism. Except that it was not truly Estonian. In the words of historian Msgr. Vello Salo, "For the Estonians, it remained a church of foreigners" (The Catholic Historical Review, April 2002).

Enjoyed reading this?
"Catholicism's Intellectual Prizefighter!"
- Karl Keating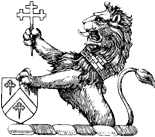 Strengthen the Catholic cause.
SUPPORT NOR TODAY
SUBSCRIBE
You May Also Enjoy
The Passing of the Old-Timers
With their old anti-Stalinism gone because of Stalin's death, the anger of many New York intellectuals was turned against Ameri­can society.