The Narthex
New Oxford Blog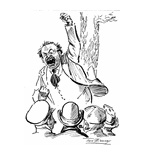 Does Our Savior Need Us?
Jesus saves via the prayers and works of the members of His Body
By Julianne Wiley | June 18th 2019 2:51 PM
There is only one Savior, Our Lord Jesus Christ, the only Redeemer of the World. This is what the Catholic Church has always taught, since the first century AD, and still teaches -- you can look it up. Being God, He does not NEED anything. He does not NEED His…
READ FULL BLOG POST
Christ's Bride
The Church can be found in the Confession line
By Julianne Wiley | April 1st 2019 2:21 PM
"Evangelization is to the person of Jesus Christ, not to a church." Haven't we all heard this? With all due respect to people's good intentions in saying this, I would caution against setting up a false dichotomy. The Church is identified in Scripture as Christ's Body, and -- to use…
READ FULL BLOG POST
"Climate Crisis Lent"
Carbon-phobia is touted over moral and spiritual reforms
By Julianne Wiley | March 26th 2019 3:33 PM
This year my parish re-themed Lent to address the Climate CO2 Crisis. It's apparently a "wholesale" international push (by Global Catholic Climate Movement, a "collective" of diocesan offices and international NGOs inspired by Laudato Si and Catholic Climate Covenant, the USCCB-related entity) with local "retail" distributors, embodied in miniature in our…
READ FULL BLOG POST